Hello everyone, super new here.
TLDR:
I'm building a way to escape digital perfection, an analog inspire-me-and-growl machine. Any suggestions?
Story:
I have been making music for 12 years in the last 6 years I have specialized in electronic music by publishing 2EPs producing them entirely on Ableton Live.
(
I am moving to more synthy stuff now, heavily inspired by Lorn
)
What has always been missing from my music is that imperfection that gave it character.
I spent hours hours trying to create synthesizers voices with imperfection and error in Serum, and it made me lose a lot of time and energy.
I was initially looking for a analog hardware synthesizer , laying my eyes on the minilogue, but it still sounded too sterile to me. Continuing my research I discovered the existence of the DPO and the 0-coast, and I fell in love with the idea of being able to change the signal path, it opened my mind so much.
I started building a small rack around the DPO, in the intellijel little box (gorgeous).
I want to only use it with the computer to create sounds for use on Ableton Live (which will be the sequencer) controlled by my Push 2.
I want to create complex and rich, organic and alive sounds. I also plan to make a bit of strange things like cool kicks and percussion lines.
In the future, if the system expands, I'm going to buy a second palette for more processing of external sound fed by ableton(rainmaker is in the wishlist)
Current prototype Still not sure about the uVCA, I'm not sure if I really need it with the maths and stuff, but "you can never have too many vcas" is alive in my mind. I guess I do
Ripples is the most pleasing filter I found, so I tossed that one in there.
The Quadratt seemed ideal for my mixing needs.
EDIT:
new prototype after receiving suggestions: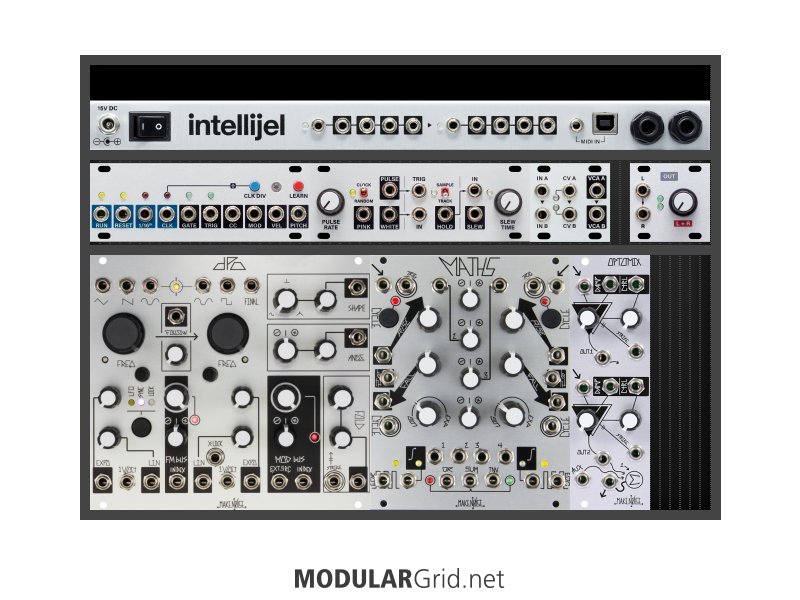 Alternatively I thought of building an economic system with a large case using only doepfer stuff, but I would like to keep the case small so that I can have everything on my desk.
I considered using one of the interfaces by expert sleepers but at the moment I have no way to interface it with my sound card since it does not have an ADAT interface. It would be cool though in the future to send control voltage from Ableton, (maybe for the phase 2)
I'm new at this this is my first time so I would like to ask you if it seems a balanced system,if looks suitable for my needs and if you have any suggestions to improve it.
Thanks a lot