Hey all,
Negativspace has been hard at work on a new daughterboard for the
Serge Resonant EQ
project we did back in 2012. Behold, the Serge Resonant EQ Mk. II: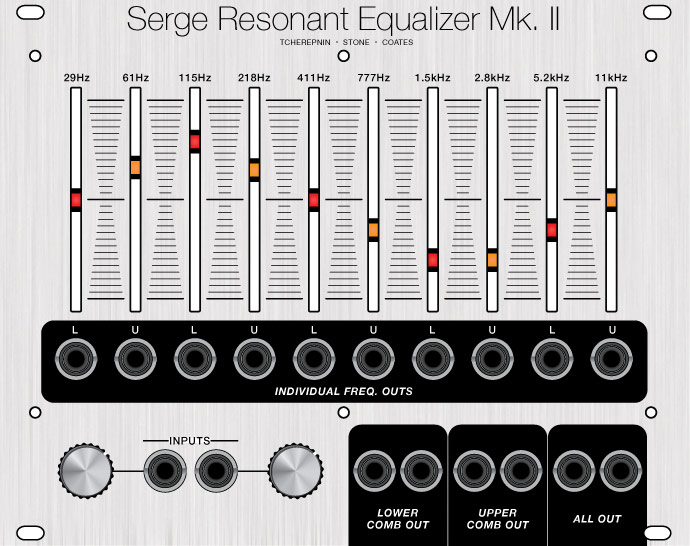 As before, the panel is 32HP, and requires
CGS202
. Negativspace's new daughterboard is improved in a few ways:
- No panel wiring! I mean it this time. *All* of the panel-mounted components solder directly to the daughterboard.
- A bunch more outputs, including separate outputs
for each frequency.
Makes this module into a hardcore, fire-breathing feedback machine.
- Designed for use with
Bourns 45mm
slider pots, with LEDs
Here's how it looks in real life:
Here's a photo of CGS202 mounted on the new prototype sub-board:
Official BOM:
SMT Components
[3] TL074 (SOIC-14)
[10] 330R Resistor (0805)
[25] 47k Resistor (0805)
[2] 0.1uF Ceramic capacitor (0805)

Through-hole Components
[18] Kobiconn 16PJ138 jacks
[10] Bourns or Alpha 45mm LED sliders
[2] Alpha 9mm pots or similar, value 50k Audio.
[10] LED Current-limiting Resistors - value varies by slider brand and LED color. Adjust to taste.
[2] 22uF Electrolytic capacitors
[2] 1N4001 Diode
[1] 2x5-pin Eurorack power header

Hardware
[6] 10mm standoffs (between panel and daughterboard)*
[4] Standoffs (between CGS202 and daughterboard)**
[?] Appropriate hardware based on the particular choices made for the two above items.

* = I highly recommend metric M2.5 screws & 10mm standoffs. The panel holes are too small for M3 screws and #4-40 standoffs don't come in 10mm lengths. Unlike many projects, the standoff height in this one is somewhat critical. It has to match the jacks.

** = The height of these is noncritical, you may as well stick to 10mm if you're ordering them but they don't have to match anything else.

The newest (and still coolest) way to get
this unique circuit
into your Euroracks.
Panel Sets are sold out.
A number of people have yet to pay for their orders, so the ordering information below is for them. Thanks for all your support!

Pricing
Pricing is confirmed! $70USD for both the panel and sub-board. I will be collecting payment and shipping them out together.


Shipping Info
U.S. - $5.80 Priority 2-Day
Canada - 1 set: $9; 2 sets: $10 International First Class
International - 1 set: $13; 2 sets: $15 International First Class

I'll do a custom quote for any international orders of quantities over 2. Note that International First Class is a bare-bones shipping service with no tracking, delivery confirmation, insurance, etc. Other services are available if you need something like that (for a lot more money) just let me know when you place your order.

Order Info
At this point, shipping is set to begin the first week in November, I've only got the bandwidth to do a certain number each day, and I will ship them out in roughly the same order that the orders came in.
Once I start shipping, I'll send reminder PMs out to those of you who have expressed interest in getting a panel but have not placed an actual order. There's no real deadline, but also no problem if you are no longer interested, just let me know.
When you're ready to pay, send the following to me either by PM or email at clarke at muffwiggler dot com:
I'm ordering [x] sets of the Serge Resonant EQ Mark II panel and daughterboard for $xx, plus shipping, for a total of $xx.

I'm aware that I may have to pay additional amounts of customs and tax in my country.

I'm also aware that I'm only buying screened and drilled panel that may help me building an electronic module - I'm *not* buying a diy kit, not a "project" - just a screened/drilled panel. I know how to build electronic circuits and I am trained in electrical safety matters. The seller of these panels will not be held responsible for any damage that results from these panels, directly or indirectly.

My shipping address is

xxxxxx

xxxxx

xxxx

xxx

My PayPal address is

xxxx@xxxx.com

My Forumname is xxxxxx
When I get your order, I will reply with a Paypal invoice, due in one week.
Thanks for all your support for this project, you guys have been great!