I posted this in the MW Facebook group yesterday but since not everyone is on FB I thought it might be interesting for people on the regular forum as well:
I have been attending a course in analog synthesis the last few weeks in the Toonzaal in Den Bosch ('s Hertogenbosch) in the Netherlands.
The studio where this takes place has an immense collection of (mainly HP) measuring and analysis modules from the 1950's and '60's:
HP4204A sine generator(3)
HP3300A voltage controlled function generator(2);
HP3305A sweep plug-in/HP3302A phase-lock loop plug-in;
HP3310B voltage controlled wide-range function generator;
HP8005A pulse generator(2);
HP8006A 16-32 bits serial word generator/pseudo-random noise generator(3);
HP3722A noise generator gaussian and binairy, variable bit length and clock (2);
HP8056A filter set, 24 bands, individual band outputs;
HP215A narrow pulse generator;
HP3590A wave analyzer, filter, sine generator, sideband demodulator;
HP120B oscilloscope(2);
HP5325A frequency counter;
HP3430A digital voltmeter dc;
HP3400A RMS voltmeter ac-dc converter;
HP5200A frequency meter FM demodulator;
EG&GParc model 121 Lock-in Amplifier (special filter, phase indicator, sine generator);
EG&G model 189 Selective Amplifier (multi-mode filter,quadrature sine oscillator)
And an ARP 2600 and a Hitachi 240 analog computer (with 40 OpAmps/inverting summers, 12 integrators, 6 multipliers, 40 potentiometers, 2 variable diode function generators, control logics)
Pictures: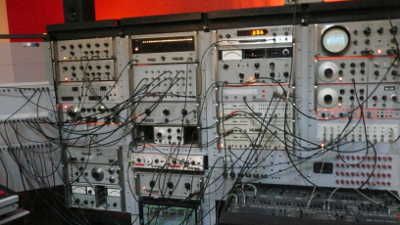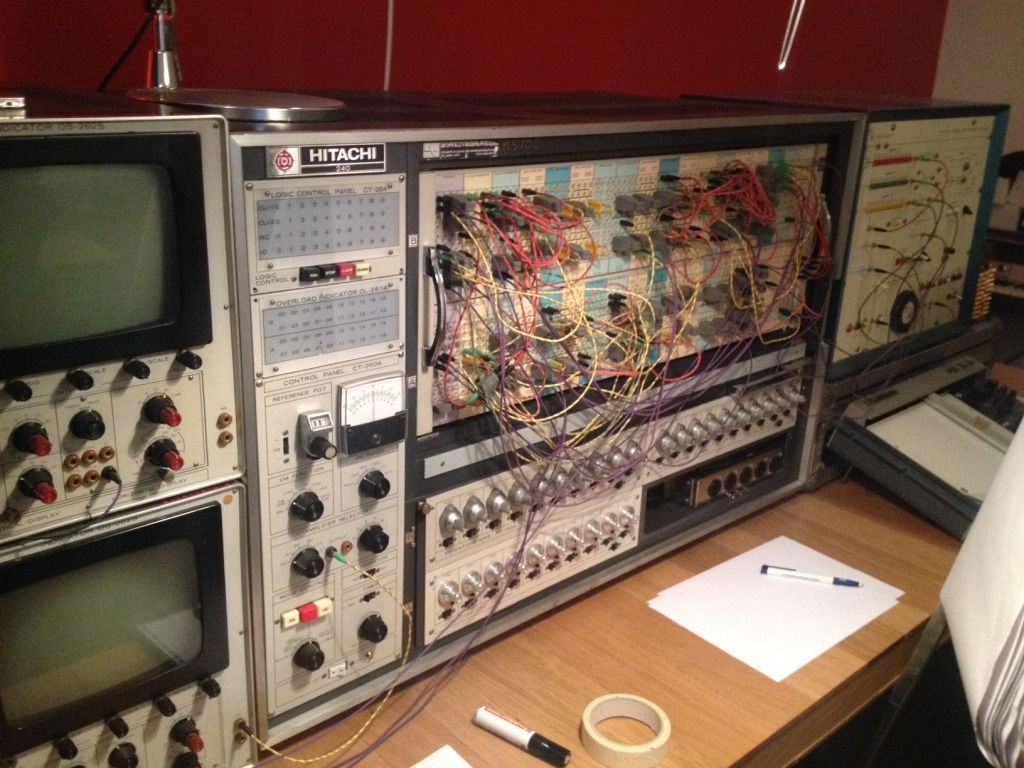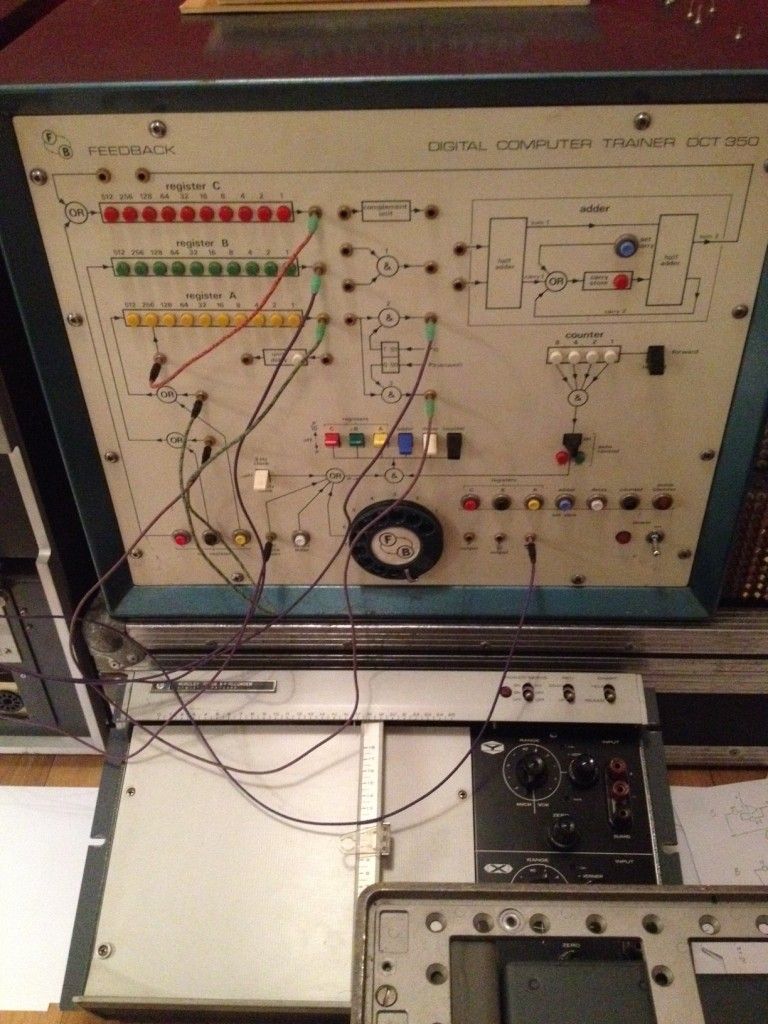 Patching is done mostly with BNC cables, but it's fun to see that in principle it works just like my Eurorack setup only much larger (and more precise). Very enlighting and inspiring!
The Toonzaal Studio is:
An Open Analog Electronic Music Studio for Experiment, Education, and Production.

The studio features wide-band precision sound synthesis equipment, analog computation, and both analog and digital recording, processing, and production. It is focussed on specialized techniques for both manual (or classic) and voltage controlled analog synthesis and sound design. The studio will be wired with its' concert hall to enable unique combinations of live stage performance with pre-recorded or live studio performances.

The studios' artistic goal is to be open to any style and branch of current music, and as such seeks to aid and raise quality in cross-over experimentation, improvisation, and composition. In terms of education and research this studio will also serve as a centre to gather, maintain, and propagate the body of knowledge of the art of analog synthesis. The studio is carried by a team of dedicated studio technicians, teachers, and composers with decades of experience in this field. The first productions have started already.

We do invite you for a visit or work at the studio, to become our partner for possible projects and/or student exchange programs, or to just ask for more specific information if needed.

We hope to welcome you in our music centre De Toonzaal in the city of 's-Hertogenbosch.

For information on residencies mail

techniek@detoonzaal.nl

.
More info:
http://www.detoonzaal.nl/toonzaal-studio
Technical specifications:
http://www.detoonzaal.nl/media/download ... pecs-1.pdf