Here are demos of the Plan-B ELF Wave Splicer and ASR I picked up at Noisebug last Saturday: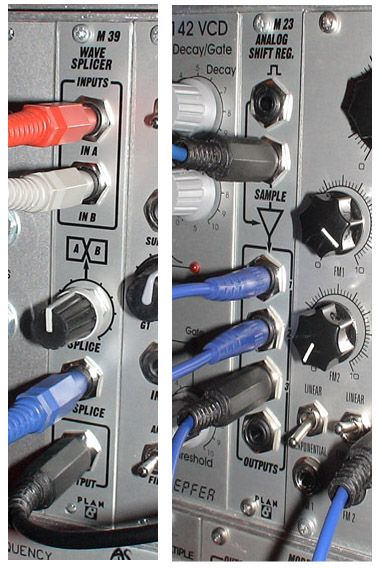 WAVE SPLICER DEMO
I put two waveforms into the WS and used envelopes and LFO's to mod the splice point. The splice uses the front half of one wave and the back half of the other to make a new waveform. The open sound has me manually turning the spice point. You hear a high sine then over to the saw and the mayhem in between. Mixing detuned or high and low waveforms makes the harshest sounds. The sweet spot of splice point itself can get real ring mod sounding and many of my sounds take advantage of that. Also two synced PWM pulses in each input plus an LFO to the splice point does a damn good AFG imitation.
ANALOG SHIFT REGISTER DEMO
For this demo I sent the outputs of the ASR to 3 oscillators set to same tuned saws. The speed of the clock you apply shifts the incoming CV to all three outputs at that clock rate. Using keyboard CV you can have each osc delay it's note change by clock speed. If you use clock at fast speed it will make the three oscs 10 times thicker sounding than if they were played normally and mixed. Also used LFO to dive the notes down and random to go all over the place. The end of the demo has the ASR send an env signal to two filters, one on left and one on right,. You hear the delay of one to the other.
I highly recommend both modules.
Dan