Moderators: Kent, Joe., analogdigital, infradead, lisa, parasitk, plord, sduck
---
---
Common Wiggler
Posts: 168
Joined: Tue Mar 11, 2014 1:08 pm
Re Tau pipe, im not sure what pad on the back side is for the 47pf (CM1 oh shematics) decoupling cap. Also, as per attached image it seems that the original board only had 6, not 7, 100nf decoupling caps for the whole circuit.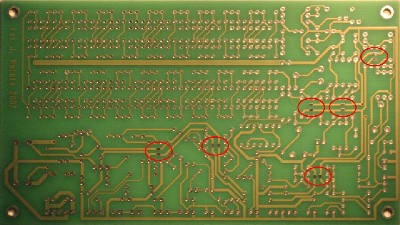 So i cant really deduce what are the correct pads for the 47nf cap.. Im sure its one of the two left (on the RS board) to all of the decoupling pads noted in the attached pic. But is it vertically or horizontally put cap of the two that is 47nf?
Thanx!
---
---
Common Wiggler
Posts: 168
Joined: Tue Mar 11, 2014 1:08 pm
---
I'm thinking of putting the Tau together with the SOST in one enclosure (
https://www.reichelt.de/Plastic-Enclosu ... ARCH=%252A
.
I'm now powering the TAU via a 18V 1000mA AC/ AC adapter. Not sure if I can use the same adapter to power the SOST as well? Will it produce enough amp to power two boards and will there be no heating issue with the case linked)?
---