Moderators: Kent, Joe., analogdigital, infradead, lisa, parasitk, plord, sduck
---
Common Wiggler
Posts: 211
Joined: Wed Dec 23, 2009 5:15 am
Location: ANNEXIA
zerosum wrote:I have a series one standard from EGC on the way

CGCFAD
OH!......Oh! n-n-n-n-n-ot Jealous!
congratulations. i was always partial to the wedge shaded guitar that Travis Bean made. now I see it in the custom section @ E.G.C.
does it come in mint green ?
---
wait, what?
Posts: 7815
Joined: Fri Nov 24, 2006 12:19 pm
it's difficult to state my opinion on this.
i really dislike guitars that are shiny and super clean and feel new or in immaculate condition. doesn't vibe and doesn't feel like they've ever been played. I don't let my guitars get DIRTY persay, and if I spill something on them (doesn't really happen) I'll clean them, but I leave them in stands, not in cases, for many reasons. Primarily because I'll grab them and play them more often, but to a much lesser extent, also because dust will slowly build up in the nooks and crannies, in the neck joints, around the pickups. This I like.
I don't personally feel comfortable with the idea of purposefully inflicting damage or imperfections on finishes or hardware. For a lot of reasons. I don't like the contrived feel, and it makes the instrument feel 'phony'. I adore the large pant chip in the heel of my Legacy from when I dropped it, and the bangs on the top of the headstocks of all my guitars from hitting the ceiling and walls (I gotta be more careful)
Now on the other hand, I will readily admit that when I ordered my Callaham I paid extra for "aged vintage white" paint, "distressed hardware" and an "antiqued" pickguard. I was on the fence about this decicion (except for the paint which I was always 110% stoked about) until I saw the guitar, then utterly delighted about the decision.
The aged white paint is just a different color, it's not worn in any way - obviously a new and immaculate finish. But the color is the color that many olympic white guitars eventually turn into. Oly white is TOO WHITE for my tastes but the cream it ages into is my favorite.
the distressed hardware isn't damaged or harmed in any way, it just doesn't have the 'shine' of new hardware. It looks like what you would get if you put a new guitar in it's case and then took it out 20 years later, but is oiled and working properly and functioning like new.
(standard on upper left, distressed on lower right)
The pickguard is the same idea, not scratched or damaged, just looking like it's been around for a long time and gotten dusty and faded.
the result is a guitar that is new, plays like new, but feels like an old friend instead of a minty-fresh new item. Without inflicting any damage or imperfections on anything. I cannot overstate how happy I am with this guitar, it is far more than I had hoped for and easily the nicest instrument I've ever encountered. And it plays like a dream, there are things I can play on it that I cannot play on other guitars (some Dave Gilmour solos) and it's made me a far far better guitar player. Total love. I can't put it down
however all that said I'm a firm beliver of 'buy whatever makes you stoked'. If buying that reliced Joe Strummer tele is gonna make some dude grab his guitar more often, and enjoy his time with it more, it's the right choice. More music gets made when we have hard-ons for the instruments we use.
---
holier than thou
Posts: 2882
Joined: Fri Nov 24, 2006 4:13 pm
Location: next to Serious Fun!
i just throw all my guitars straight into a wood chipper...
---
Common Wiggler
Posts: 211
Joined: Wed Dec 23, 2009 5:15 am
Location: ANNEXIA
I admit losing all perspective ,pro or con regarding the subject but I do like finding out about about all these stringed thingies. Here is a new one from this mornings meander.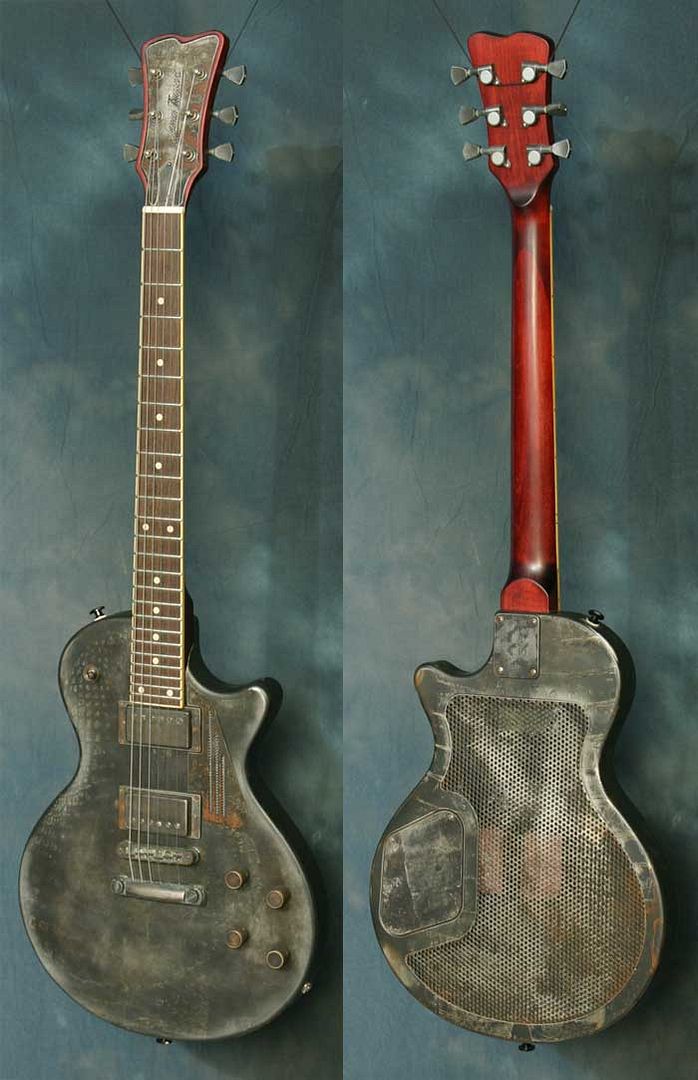 ---
I'm not a fan of the Road Worn stuff, but some of the Custom Shop relics are amazing. To each their own.
---